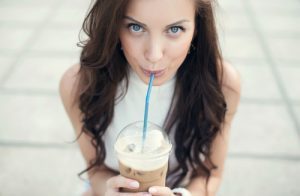 America seems to be obsessed with perfect teeth, and it's no wonder why. You can have the strongest and most attractive body on the planet, but if your teeth are a mess you'll not only look a wreck but feel it as well. But achieving a healthy smile is easier than you may think. Good health begins in the mouth. The wrong food choices can cause plaque, encourage decay, gingivitis, and drastically stain your teeth. Professional teeth whitening works wonders to remove up to ten shades on your lunch hour. However, the best way to improve your dental health while honoring your body is to avoid, or at least limit, the foods that actually damage your teeth. But what are the common culprits?
Sour Candy
Any kind of hard or sticky candy is so concentrated with sugar that eating it is basically like injecting sugar right into your cavities. But sour candies are especially bad. They contain extra acids that eat away at teeth easier. And most are sticky to boot, so they'll hang around the teeth longer. Opt for a square of chocolate instead if you really need a quick sugar burst.
Citrus Fruit
Citrus fruit is packed with delicious flavors and loaded with essential vitamin C. But lemons, limes, oranges, and grapefruits are also loaded with acids that eat away enamel and promote mouth sores and decay. And don't think you're safe just adding it to your water. Those acids cling to your mouth too. Moderation is the key if you still need your citrus dose. Just be sure to rinse with clean water right afterward.
Coffee
Professional teeth whitening can get teeth 10 or more shades brighter than box kits, so it's no wonder teeth whitening is the most popular cosmetic dentistry procedure. But coffee is one of the main culprits for stained teeth. Yes, the bitter brew is a delicious pick-me-up and loaded with antioxidants. But it's also full of tannins and acids that stain the teeth, wear enamel. If you can't give up your daily habit, at least consider switching to ice coffee and sipping it through a straw to limit enamel contact.
Ice
Many people love to suck and chew on ice, but that habit can be seriously detrimental to your teeth. Extreme or sudden temperature changes inside a warm mouth can cause even healthy teeth to crack, chip, or fracture. And the hardness of the ice itself can wear and destroy enamel. Never open bags, bottles, or anything else with your teeth for the same reason.
Dried Fruit
Dried fruit is packed with valuable nutrients. But because the water is removed from the food source, dried fruit is also sticky and contains a high concentration of sugar. If you can't, or simply refuse to, eliminate the raisins, figs, dates, or dried pineapple from your diet, at least rinse your mouth with water right after and brush and floss 20 minutes later. Fresh fruit is always a healthier option.
Hard Nuts
Nuts are packed with essential nutrients and fatty acids an active body needs to thrive. But they're also hard on enamel and existing dental work. Chewing on hard nuts can crack enamel as well as potentially damage braces, porcelain veneers, and even dental implants. You don't have to avoid them completely though. Simply eat smaller nut pieces or enjoy low-sugar or sugar-free nut spreads to continue having a beautiful, healthy smile.