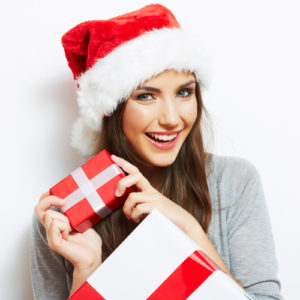 As the holidays approach, many Americans prep and plan, forgetting about an unavoidable part of the season: the inevitable celebration pictures. In this day and age of mobile connection, chances are your image will be displayed on countless social media posts and profiles before you can say "Bah humbug". According to a major study from the American Association of Orthodontists (AAO), over one-third of Americans are unhappy with their smile and almost 50% of social media users untag themselves from images because of their personal lack of confidence. If only they knew how easily whiter teeth could restore their smiles. But what are the real benefits of opting for professional teeth whitening this holiday season?
Professional Teeth Whitening Is Customized and Powerful
Store-based box treatments work in a pinch, but they're not one-size-fits-all solutions. While some people may experience decent results, others often end up seriously disappointed and repeat the process multiple times hoping to see the change they desire. Of course, that just leads to an empty wallet and potential enamel damage. Professional teeth whitening, on the other hand, is customized to each patient's needs and personal desires. Each tooth is attended to and the right amount of bleaching and activation agents are used to ensure enough power to whiten and brighten up to ten shades over the store-bought box kits.
Professional Whitening Is Efficient and Comfortable
Over-the-counter whitening products rarely provide dramatic results, so you may need to repeat the process several times to see a difference. That can take months and who has the time for that? The chemicals also often cause irritation and sensitivity that didn't previously exist. Pro whitening can provide dramatic results after the first visit. Your dentist also knows how to shield your gums and provide optimal comfort so all you have to think about is a beautiful smile.
Professional Whitening is Natural Looking, Thorough, and Safe
Over-the-counter solutions can actually leave your teeth dingy or patchy. According to the American Academy of Cosmetic Dentistry, however, professional dentists prioritize natural appearances over idealism. So while your favorite celebrity may have translucent or blinding teeth off-screen, your dentist knows precisely how much whitening you'll actually need to optimize your natural beauty. Cosmetic dentistry results are thorough, whitening all teeth evenly. And the materials are compatible with biomimetic dentistry standards so the procedure is completely safe and worry-free.
Professional Teeth Whitening Is a Long-Lasting Confidence Booster
Over-the-counter kits use weaker solutions than professional whitening options. So you have to use more to see anywhere near the results you want. That can take a long time to achieve, lead to sensitivity issues, and actually discolor or unevenly bleach your enamel. Professional teeth whitening customizes your treatment for your specific needs and desires, thus extending the lifespan of a single whitening. The longer your teeth stay naturally beautiful, the more confidence you'll experience in the process. Why not schedule your holiday smile makeover session today?