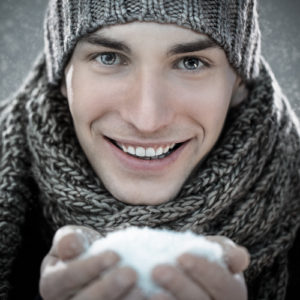 When it comes to New Year resolutions, personal and self-improvement goals come in just after weight loss goals for countless Americans. Over 80% of Americans admit they'd focus on dental repairs if they had the option. While 41% of Americans make resolutions, only 8% ever reach any of their goals. In fact, according to US News, 80% of all resolutions made fail by February. An easy way around that is to enlist cosmetic dentistry to help you achieve at least one goal right off the bat. And if you really want to get a great smile quickly in the New Year, Lumineers may be the perfect solution.
Lumineers Are Convenient, Comfortable, and Long-Lasting
Lumineers are a type of porcelain veneer that is about half as thick as traditional veneers. Custom-designed Cerniate porcelain shells are created in widths of around 0.2 millimeters, so a bulky look or feel is never an issue after a brief breaking in period. Digitally created to be strong enough to withstand life demands, Lumineers are more resistant to leakage and cracking than traditional veneers. And since they can last up to two decades with good dental habits, the investment easily pays for itself.
Lumineers Correct Multiple Dental Concerns
Unlike other cosmetic dentistry procedures that take care of one or two issues, Lumineers can correct multiple dental concerns at once. Ditch the whitening strips and head to the dentist. Lumineers all discolored or seriously stained teeth without the addition of harsh chemicals or weakened enamel. Gaps, cracks, and chips can be corrected and covered instantly in exchange for picture perfect replacement "teeth". You can even avoid the need for implants and partial dentures in some cases as long as your jaw structure and surrounding teeth are in decent condition.
Lumineers are Non-Invasive
Although traditional veneers are still thin compared to other dental solutions, their composite makeup requires a more aggressive approach to ensure they're properly affixed. As such, irreversible removal of healthy enamel occurs. The process, while painless to most, can cause discomfort and require anesthesia to reduce sensitivity. That's not usually the case with Lumineers. If your teeth are relatively strong prior to the procedure and you have no serious oral health issues, you may be able to avoid any tooth removal. And unlike porcelain veneers if you're unhappy with the final outcome or placement Lumineers can be reversed.
Lumineers Are Time-Efficient Smile Solutions
Lumineers are one of the most efficient cosmetic dentistry procedures that offer almost instant gratification. Two office appointments are all it usually takes to get the smile of your dreams. Lumineers require no surgery or drilling. Minimal alteration of existing teeth is required, and the entire procedure is relatively hassle-free. And since there's no pain and minimal to no discomfort, painful recovery time compared to other cosmetic dentistry procedures is completely avoided. Before you decide to undergo, your Lumineers transformation, be sure to do your research and choose a certified Lumineers dentist. Give us a call to start your New Year off with a bang and see if Lumineers are right for you.