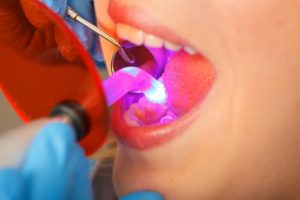 Even the slightest dental issues can cause a person to hide their smile. Of course, beauty is subjective and what may seem like a barely visible issue to one person may stand out like a beacon to another. Anything from sudden temperature changes in the mouth to getting hit in the face with a hockey puck can cause a tooth to chip or crack. And they're not always exclusive. Once a deep crack sets in, the chip is often inevitable. Wait too long to treat it, and the injury can cause extra sensitivity, pain, lower self-esteem, damage tooth pulp, and even require a root canal to repair. But if you act relatively quickly and see your dentist as soon as possible, simple repairs even such as dental bonding or crowns may just save the day and the tooth. But what are the three easiest ways to fix a tooth and how exactly do they work?
Dental Bonding
Bonding is one of the easiest and most affordable dental solutions to repair minor problems. So if the chip is relatively small and uncomplicated, your dentist will likely suggest dental bonding. This is a quick and simple procedure in which your dentist uses a tooth-colored composite material to cover the healthy area of the chipped tooth. They'll file the enamel slightly and mold the composite to look like a natural extension of the tooth. Light rays harden the material, and once it's applied a professional dental bonding can last a decade or longer without any issues or worries.
Porcelain Veneers
Larger, more prominent, or otherwise more severe chips that seriously affect your appearance may need the help of porcelain veneers. These wafer-thin porcelain shells are the Hollywood secret for red carpet smiles. But they're easily adapted to general life needs as well. This procedure takes two to three office visits to achieve, and they are an investment. But if you've ever wanted a perfect smile, they're completely worth it. Your dentist will make molds, color match the porcelain shells to your surrounding teeth, lightly file down the enamel of the tooth or teeth involved, and affix the shells once they're created. Clinical testing has concluded that porcelain veneers can last up to 20 years without any issues, so they're a potentially permanent solution for more obvious chips.
Crowns
A dental crown is a tooth-shaped topper or cap that fits over a damaged tooth to correct the damage and restore the strength and structure of the broken or cracked tooth. Dental crowns are suggested for multiple reasons over bonding or veneers. If the tooth in question those surrounding it are especially weak, or the damaged tooth is badly discolored your dentist may heavily suggest a crown. The patient may also request a crown for cosmetic reasons. Crowns are generally applied when the chip is relatively severe, and a significant amount of the tooth is missing. A crown usually requires two visits: one to file the damaged tooth and make the mold, and the second appointment is the fitting once the crown has been completed. Regardless of which option you and your dentist decide upon to correct your chipped tooth, a simple call is the first step to a new beautiful smile.